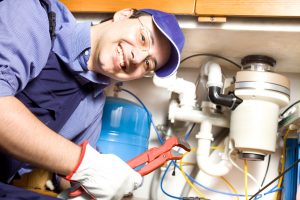 There are a lot of DIY-ers out there, but your plumbing isn't one of the best issues to tackle yourself. Sure, super-basic things such as de-scaling lime buildup on showerheads are easy enough, but it's worth calling professional plumbers in Longview TX when there's anything wrong inside the pipes or with the pipes themselves. You may not think something such as a leaky faucet or installing a new garbage disposal requires any specialized plumbing skills, but if you attempt those problems on your own you might end up needing a plumber anyway.
That's because the typical homeowner commonly makes mistakes that result in having to call plumbers in Longview TX to come in to fix the "fix." According to Popular Mechanics, one of the most frequent errors amateur plumbers make is trying to use different metal types when connecting pipes. The issue that a professional plumber won't miss is that when two different types of metals are used, such as copper and steel, they need a unique dielectric union that will keep the two metals from reacting together, corroding and causing buildup that will block the pipe. You might feel a sense of accomplishment when you replace that one section of old pipe that's sprung a leak, but the peace of mind knowing you won't have to call a plumber later to fix your work is even better.
Another common mistake would-be DIY-ers make is to take a section of plumbing apart without remembering how it goes back together. You might be surprised when you tear into your kitchen faucet or bathroom shower to find small clips. The trouble comes if you don't remember where they went or exactly how they fit in, and you'll be looking up plumbers in Longview TX to come in on an emergency call so you don't have to go several days without a shower or washing dishes.
When you're tempted to tackle plumbing repair at home on your own, skip the hassle and mess and save your valuable time for a project you enjoy. Leave the plumbing to the pros at Bird Dog Plumbing. Bruce Guillory has over 13 years experience and a Master Plumber's License. He knows how to handle the jobs that affect your plumbing. From water leaks to drain cleaning and repair, toilet repair and water heater issues, Bruce will do a quality job in record time and at a reasonable price. For residential, commercial or remodel work, call Bruce Guillory at Bird Dog Plumbing at 903-225-2272.  He is sure to become your favorite plumber.
Plumbers Longview TX
Bird Dog Plumbing LLC
2206 Balsam St
Longview, Texas 75605
903-225-2272
References:
http://www.diynetwork.com/how-to/skills-and-know-how/plumbing/how-to-fix-common-plumbing-problems-in-the-bathroom
http://www.popularmechanics.com/home/how-to/g1158/10-mistakes-that-will-make-you-call-the-plumber/?slide=6
Photo Credit:  ©Depositphotos.com/ minervastock