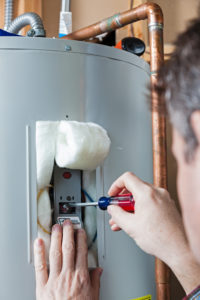 If your water heater isn't performing the way you expect it to and you're wondering if you're going to need a water heater repair or a water heater replacement and installation, Bird Dog Plumbing can help.  At Bird Dog Plumbing, we know that water heater problems are no laughing matter.  You rely on your water heater for warm baths, hot showers, clean clothes and clean dishes so when something goes wrong, you cross your fingers and hope it's nothing major so that you won't have to do without all those things you need a water heater for.  Most water heaters last a long time and when they do break down, it's fairly simple to diagnose the problem because they have so few parts.  But even the most reliable water heaters can develop problems, some of which can be repaired while others may mean it's time to replace the unit.
When It's Time To Repair Your Water Heater
If your water heater is less than ten years old and is still in good condition but develops problems that include broken thermostats, malfunctioning heating elements, sticky valves, pilot light and circuit breaker problems, repairing it is the best option because it likely still has many years of reliable service left in it.  Also, if the cost of repairing your water heater is less than 50 percent of the cost of replacement, then repair is the logical option.  If you just like the way your water heater works no matter how old it is and you don't want to change it, then you should have it repaired.  If your water heater is still under warranty then no matter what the problem is, have it repaired.
When To Replace Your Water Heater
If your water heater is more than ten years old and it develops any of the same problems a new water heater might develop, you should consider replacing it and getting a new water heater installation.  After ten years, your water heater is only working at 50 percent efficiency, which means that repair money you spend on it will only be keeping a water heater that's inefficient and that has very little life left in it limping along.
If your water heater tank is corroded or cracked and is leaking water, it must be replaced – this is not a repairable item.  Although corrosion and cracks are normally associated with older water heaters, they can happen to newer water heaters as well.  You'll also need to replace your water heater if you simply want a newer, more energy-efficient model or one with a larger tank.  Water heaters can't be added onto with upgraded components; they just have to be replaced.
To find out what your best option is when it comes to having your water heater replaced or repaired, call the water heater repair and installation experts at Bird Dog Plumbing in Longview, TX at (903) 225-2272.  At Bird Dog Plumbing, we can diagnose and repair your water heater problem and can quickly tell you whether or not it's reparable.  If you decide to repair your unit, we'll give you a great repair at a reasonable price.  If you decide to replace it, we can tell about all of your water heater options and can install your new unit quickly.  To find out more about our complete line of plumbing services, visit www.birddogplumbingllc.com.
Water Heater Installation Longview TX
Bird Dog Plumbing LLC
2206 Balsam St
Longview, Texas 75605
903-225-2272