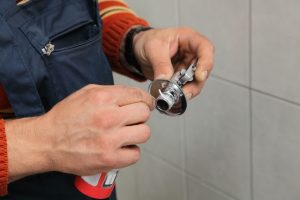 We often take our water service for granted until we need the help of a plumber Longview TX. Clogged drains, garbage disposals and backed-up toilets are just a few of the common plumbing problems that can be solved by an East Texas plumbing service.  Your local plumber offers fast, efficient repairs and replacements for the following problems:
1-Drain Services
Don't let a clogged drain put your day on hold. A plumbing service in Longview TX can unclog your kitchen sink, bathtub or blocked toilet. Your plumber will clear the pipes beneath your sinks or clear the sewer drain if a clogged toilet is backing up into your shower or tub.
2-Toilet Repair
A toilet that overflows or doesn't flush properly is one of the most frustrating household problems you can encounter. Quite often the issue can be remedied by replacing or repairing a part inside the toilet tank. If the bowl is leaking, it may be a supply line problem. If water is leaking from underneath the toilet bowl, your plumber might reseal it. If that doesn't work, it may be a clog in the waste line which they can then fix.
3- Water Heater Installation and Repair
When you turn on the shower and get sprayed with a ice cold water even when you've turned the valve to hot, contact a plumber Longview TX to check the water heater. If you hear a popping sound from your gas heater or there's a rotten egg smell coming from it, there may be sediment at the bottom of the tank. An East Texas plumber can fix these issues by flushing the tank.   If your water heater is more than ten years old or has a leak, your best option is to have a plumbing service replace it for you.
4- Remodeling
If you're remodeling your home, a plumber Longview TX will work with you to add a bathroom, half-bathroom or laundry room. A certified plumber can hook-up dishwashers and sinks in your kitchen, install showers, hot tubs or appliances outdoors or supply gas to pool heaters or outdoor fire pits. Your East Texas plumber has energy-efficient faucets and toilets that will save water, energy and meet local environmental standards.
5- Water Leaks
Leaky faucets waste up to 10,000 gallons of water in the average household every year. An experienced plumber Longview TX can replace valve seals or washers to stop leaks and prevent further waste.  Getting to the bottom of a difficult leak may entail cutting a hole in a wall to check pipes and pipe fittings. Your plumber Longview TX may need to replace deteriorated pipes to stop serious leaks.
Bruce Gilroy of Bird Dog Plumbing LLC is a master plumber with over 13 years experience in East Texas residential and commercial plumbing. Bird Dog Plumber serves Longview, Kilgore, Gladewater, Ore City and Hallsville. We provide high quality installation and repair.  We value our customer's time and offer excellent service at affordable prices.  Call us today at 903-225-2272 to schedule an appointment.
plumber Longview tx
Bird Dog Plumbing LLC
2206 Balsam St
Longview, Texas 75605
903-225-2272
Photo Credit: © Depositphotos.com/ simazoran