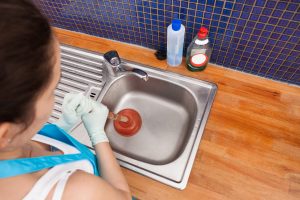 When you're looking for residential plumbers in Longview, TX, look no further than Bird Dog Plumbing.  We are a full-service plumbing company that can take care of all of your home plumbing needs.  As a homeowner, it's important that you find a plumbing company that can go beyond unclogging drains and snaking toilets.  You need to have someone you can call for anything and everything that might go wrong in your home because you don't need the added headache or expense of calling in different plumbers for different jobs.
Need your drains or toilets unblocked or cleaned?  If you've tried plunging and chemicals and nothing works, we can take care of sink and shower drain clogs and blocked sewer drains that can cause your toilet to back up.  Faucets leaking?  Water leaks in and around your house aren't just annoying, they're costly because they can waste tens of thousands of gallons of water a year in addition to damaging the structure of your home.  We can find and repair leaks and, if necessary, repipe your home if your problem is old or worn-out pipes.  Is your toilet leaking or making noise?  We can replace the inner workings of your toilet tank so that it functions properly or we can completely replace your toilet if it's leaking or you just want to upgrade to a toilet that uses less water.
Are you taking cold showers?  We work on gas and electric water heaters.  We can replace parts and make repairs or replace a water heater that's too old or one that leaks.  Do you think you may have a gas leak?  After you've contacted the gas company to have it turned off, call us.  Our plumbers in Longview, TX can locate the source of the leak and repair it if possible.  If necessary, we can repipe your gas delivery lines if they are too old to repair.  And before you need a repair or repiping, call us to conduct regular leak tests because leaking gas in your home can build up and become toxic and explosive quickly.
 
At Bird Dog Plumbing, we want to earn your trust so that we will be the plumbers you call every time you have a plumbing issue in Longview, TX.  Call us at 903-225-2272 and visit www.birddogplumbingllc.com to learn more about the residential services we offer.  And remember, with Bird Dog Plumbing, there's no extra charge for Saturdays.
plumbers Longview TX
Bird Dog Plumbing LLC
2206 Balsam St
Longview, Texas 75605
903-225-2272
Photo Credit:  ©Depositphotos.com/ A n d r e y P o p o v