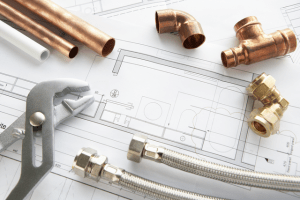 Is one of your East Texas bathrooms looking a little shabby?  Have you always wanted glass tiles in your shower and double sinks in your vanity?  If you're an avid viewer of home improvement shows, then you're probably thinking that ripping out your old bathroom and installing a new one will be super easy and that you'll be able to get the work done in a weekend – even without any DIY know-how.  But any one of the experienced plumbers in Longview TX will tell you that bathroom plumbing is nothing to mess around with if you don't know what you're doing.
Why?  Because while there are some parts of a remodel that you may be able to learn on-the-job, plumbing requires previous experience, extensive knowledge and the right tools.  In the bathroom, you must deal with fixtures that attach to both the main water line and the sewer line and, if you intend to rearrange your fixtures, you must also deal with an extensive amount of planning to reroute your plumbing.  Plumbers in Longview TX are worth their weight in gold when it comes to having your bathroom working correctly every time you use it.  Here's the difference they make:
✓ Less time spent on plumbing.  Plumbers in Longview TX know their business and they've seen everything before.  No matter what you want, they can make it happen and in a timely manner because they have the experience and the right tools.  When you attempt to do the job yourself, you will likely spend days trying to figure out how to disconnect your old fixtures, how to choose new ones, how to make connections, which parts you'll need, etc. and that's before you even begin to make headway on your project.
✓ Help if something goes wrong.  Reputable plumbers guarantee their work.  If something they do isn't right or you have a problem down the line, they'll fix it.  If you install your own plumbing, you'll only have yourself with your limited knowledge to turn to if there's a puddle under the sink or your showerhead leaks.  Although it's highly unlikely when you hire a professional plumber that you'll have a problem, you'll appreciate the peace-of-mind that a signed contract will give you.
✓ More options.  Professional plumbers have access to more options when it comes to cabinetry, tubs, shower heads, faucets and sinks than you can find in your local big-box hardware store.  In addition, they can also give you design ideas that you may not have thought of.
So, if you're ready to tear out that old bathroom, call one of the best plumbers in Longview TX, Bird Dog Plumbing, at (903) 225-2272.  At Bird Dog Plumbing, we know our business and we can help you complete your bathroom remodeling project in a timely manner.  And we also work on Saturdays at no extra charge for added convenience.  Visit us online to learn more at www.birddogplumbingllc.com or call us at 903-225-2272 | NO EXTRA CHARGE ON SATURDAYS!
plumbers longview tx
Bird Dog Plumbing LLC
2206 Balsam St
Longview, Texas 75605
903-225-2272