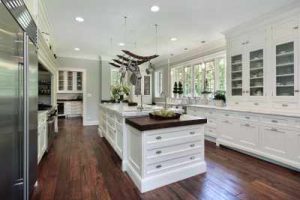 Your idea of a dream kitchen  may be more attainable than you think.
In reality, sometimes you can make the most significant impact on a room from small changes to freshen up the space, without the headache and cost associated with a complete remodel.
The following modest projects can significantly increase the appeal and value of your home kitchen while keeping your wallet intact.
From beginning to end, these simple projects should take anywhere from a few hours to a weekend to complete.
Install Under Cabinet Lighting
Usually, most kitchens come equipped with over overhead lighting. Installing under-cabinet lighting is a small, but beneficial investment both aesthetically and financially. Under-cabinet light helps brighten the kitchen counter workspace while cutting costs associated with illuminating the whole room. They provided uniform well-distributed light that adds style and eliminates shadows at the same time. Don't be afraid to shop around and find the most suitable lights for your kitchen.
Switch out the Hardware
Switching out the hardware in your kitchen is extremely simple and cost-effective. Installing new cabinet handles and knobs can significantly enhance the look of your kitchen while only taking up at least, a couple of hours of your time. There is nothing better than clean kitchen hardware.
Change the Cabinet Color
If you feel your current cabinets are dull and outdated, a simple color change can make all the world of difference. Create a stunning new look by introducing a neutral color or wood stain, to deepen and enrich the definition and shape of your kitchen cabinets. This project is extremely time and cost-effective, considering the possible outcome and difference it may make.
Install a New Kitchen Sink
The kitchen sink is an important element of the space, which, over time, can become worn and dirty. Replacing the sink can drastically change the overall appeal and brighten up the kitchen as you would never imagine. Remember, whenever making updates that may affect the plumbing in your kitchen, work with a licensed and experienced plumber like Bird Dog Plumbing in Longview, TX. We can assess your current kitchen plumbing and consult with your on the necessary modifications or upgrades to make your remodel project come off without a hitch.
Update or Add a Tile Backsplash
Installing or updating a tile backsplash can be an opportunity to add invigorating textures, colors, and designs which completely transform the kitchen space. This very DIY-friendly project has a very high work-to- enjoyment ratio. It simply requires installing uniform strips of tile which can be easily removed or adjusted depending on personal preference.
There are several easy and cost-effective approaches to revamp your kitchen. Hopefully, this small list has inspired you to believe that small kitchen upgrades can make a huge difference. For more information on kitchen upgrades and plumbing, contact the professionals at Bird Dog Plumbing in Longview, TX.