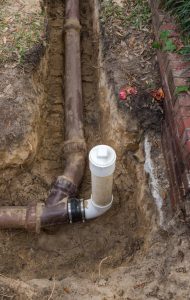 If you are experiencing problems with your sewer system, it might be necessary to replace your sewer line. Before you begin digging up your yard, be sure that you have done everything possible to solve your problem without replacing the line. If you try everything and you still have sewage issues, the following tips will help in replacing your line.
Know Your Code
Before you start any type of work on your yard, it is vital to check with your local government officials to determine the codes for fixing your sewage problem. Codes can change over time so don't rely on the advice of a family member or friend. Get the information in writing directly from the local enforcement office.
Inspect for Obstructions
Another thing to check before you begin is whether there may be any hidden underground obstructions. Wiring and piping systems are often hidden below the ground. The last thing you want to do is start digging and end up cutting through gas lines or electrical wiring. Accidentally cutting through lines will just cause more headaches and cost you more money to fix.
Look for Leaks
Look for any damp or wet areas around your yard. This could indicate that you have a leak in your plumbing system. Be sure to check all of the areas of your front and back lawns. If you find any wet spots, it's a good idea to find out how extensive that problem is before you begin to tackle your sewer line issue.
Check for Roots
Many times roots can force their way through plumbing systems. You'll need to check your yard for potential roots that have grown through your sewer line. You may find that your neighbor's tree has roots that are impacting your plumbing. While you can't cut down the tree, you can deal with the roots. Roots that are in the way will have to be removed.
Call an Expert
In order to replace your sewer line, you will have to dig up the pipes that cannot be fixed. At this point, it's a good idea to call in a professional to get some expert advice. A professional plumbing service or contractor will have the experience, expertise, and tools needed to get the job done right the first time.
For more information on plumbing issues in Longview Tx, contact the experts at Bird Dog Plumbing. Call 903-225-2272 to schedule an appointment today!
Bird Dog Plumbing | Plumbing Issues Longview Tx | 903-225-2272