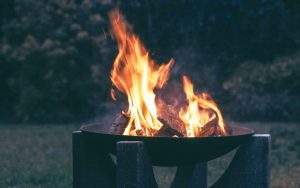 A fire pit provides a place for you to sit back and relax with your family and friends any time of the year. Regardless of the outdoor temperatures, a fire pit makes a wonderful spot to gather with loved ones and enjoy the outdoors.
There are many different styles of fire pits from which to choose from simple metal bowls to complicated multi-level units. If you are considering adding a new fire pit in your yard, it's essential to find out the best location to install it, the best type to purchase for your situation, and how to use one safely. It's also vital to ensure that the fire pit you want meets all of the laws and codes in your local area.
Wood Burning Fire Pits
Do not use wood-burning fire pits on a porch area that has any type of covering. Also, do not light it in an area with excess winds or low branches. Be sure to check with your municipal or county offices for any codes regarding burning wood in an outdoor fire pit.
For many people, the aroma of a crackling fire brings about beautiful memories. If you prefer a wood burning fire pit, keep in mind the size of average logs. The cut of wood logs is two-foot in length, so you will need to make sure that you choose a fire pit that can fit them.
Gas and Propane Fire Pits
Gas and propane fire pits are appropriate on porch areas that have an overhanging roof. They tend to be neater than wood pits as there is no need for wood piles to maintain, nor ashes to remove.
Fire Bowl Materials
When looking for a new fire pit, consider purchasing a fire bowl that will extend the life of your pit. An aluminum bowl will rust over time, and copper can become stained. Cast or wrought iron will maintain its beauty.
Cost
Many fire pit options are budget friendly. The cost of a pit varies based on the material used to create it and the complexity of the design.
Location
Keep in mind that fire pits are meant to be used outdoors and should never be lit inside. Check with your local governing office about and regulations regarding where you can install your fire pit in your yard.
Safety
Make sure that you have a fire extinguisher that can be easily accessed when using your fire pit. Everyone enjoying your fire pit should be made aware of the potential hazards of an open fire.
For more information on fire pits and gas supply in the Longview Tx area, contact Bird Dog Plumbing at 602-509-1796 today!
Bird Dog Plumbing | Gas Supply Longview Tx | 903-225-2272