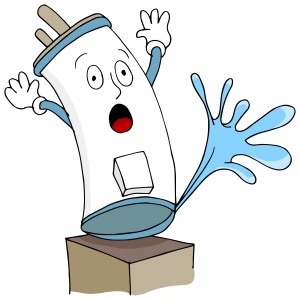 If you've noticed a water leak near your water heater, it may be time to call a plumber who handles water heater repair in Longview, TX for help.  Though a water heater, gas or electric, is a fairly straightforward piece of equipment, figuring out where a leak is coming from can get complicated and fixing any leak can be dangerous because of the combination of electricity and hot water in your unit.  Before you call a plumber, take a look at your water heater and try to determine where the water is coming from so you can give him or her accurate information that will help them to decide how urgent your problem is.
Water Leaking From Pipes
Pipes that have corroded or that have had some kind of damage to a connector or fitting can leak water in either a slow drip or in a spray.  A spray of water, especially if your water heater is located inside your home, is more urgent than a slow leak and will require your plumber to come as quickly as possible.
Water Oozing From Gaskets
Gaskets around your heating elements can corrode over time, break or pinch and cause a slow but fairly steady leak down the side of your water heater.  Heating elements are concealed by a cover plate so if you suspect the gaskets around the heating elements are leaking, to be sure you'll have to unplug your heater and remove the cover plate.  Push aside the insulation and feel around the elements or dab around them with a dry paper towel to look for oozing water.
Water Condensing Under The Pressure-Relief Valve
If the temperature in your water heater is set too high, steam and the pressure that comes with it will build up inside the tank.  The pressure-relief valve is designed to release the steam and take the pressure off.  Once the steam releases, it condenses and drips off the valve, which is located either on the side or top of the heater.  Though there won't be much water from this pressure release, you will need an expert in water heater repair in Longview, TX to figure out the reason there is pressure buildup inside the tank.
Water Condensing Around The Base Of The Tank
During times of heavy hot water use, you could have more cold water than heated water in your water heater tank.  When this happens the cold water inside the tank coupled with the warm air outside the tank combine to make condensation on the side of the tank that can puddle in the drip pan under your heater.  This is fairly normal and doesn't indicate a problem with the water heater.
Water Leaking From The Tank
If water is leaking from a seam on the tank itself and it appears that the seam is compromised in some way – through buckling or corrosion, you have an urgent need for a plumber.  In situations where the water heater tank develops a leak, the only solution is replacing the water heater because these kinds of leaks usually only occur in water heaters that are old.  If your heater is already past its prime, replacement – not repair – is the answer.
For any of your plumbing problems, including water heater repair in Longview, TX, call us at Bird Dog Plumbing at (903) 225-2272.  You can also visit us online at www.birddogplumbingllc.com to learn more about what we do.  For urgent weekend problems, we work on Saturdays at no extra charge.
Water Heater Repair Longview TX
Bird Dog Plumbing LLC
2206 Balsam St
Longview, Texas 75605
903-225-2272
Photot Credit: @DepositPhotos.com/ cteconsulting