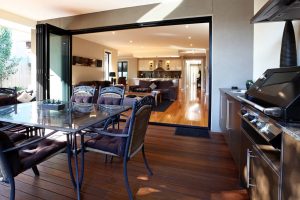 Adding a kitchen to your outdoor living space is becoming more popular, but consider these things before making plans to build your dream outdoor kitchen.
How much do you have to spend?
Depending on your taste and space, costs can range from $2,000-$50k+. Establish a budget prior to shopping and stick to it as best possible.
Where are you putting it?
Most outdoor spaces are in proximity to indoor plumbing, but if not, consider the extra cost needed to run the pipes from further away.
Size.
Do you spend your time outdoors occasionally, or is it an extension of your home If you love being outdoors you may want to go all out with the bells & whistles. In addition to a grill & sink, Splurge by adding a fridge, deep fryer or a kegerator.
How do you want it to look?
You have to consider the type of countertop, cabinetry, base. Will you want to use it in the winter? If so, purchase heating lamps or a fire pit.
Winterize the kitchen.
Clean & cover surfaces. Unplug appliances, Shut off water supply
For plumbers in Longview, Texas, that can help build your outdoor kitchen, let Bird Dog Plumbing help you! For plumbing inquiries, call 903-225-2272 or visit http://birddogplumbingllc.com/.
Plumbers Longview TX
Bird Dog Plumbing LLC
2206 Balsam St
Longview, Texas 75605
903-225-2272