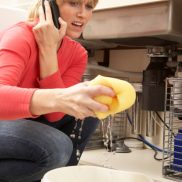 Sometimes, a small water leak under your sink quickly escalates into a huge problem, leading to thousands of dollars in water damage. It is always smart to make sure a plumbing problem is not a problem you can fix yourself, but sometimes you need the pros. Not every issue can wait until regular working hours, and there are times that you need an emergency plumber.
Calling an emergency plumber can get expensive, but it is cheaper than dealing with extensive water damage. The important thing is to know when you need an emergency plumber, or if you have an issue that can wait until the next day or after the weekend. Here are a few of the common problems that Bird Dog Plumbing thinks qualify as emergencies.
Call an Emergency Plumber when this Happens
Sewer Backup
When a sewer line backs up, it creates a severe health hazard for you and your family. The mix of fumes, odors, and pathogens creates a dangerous indoor environment. A sewer line backup also prevents you from using the sink, toilet, or shower. For all of these reasons, your sewer line backing up is 100% an emergency.
Burst Pipe
The most common cause of a burst pipe is the water freezing and expanding in the pipe. The frozen water blocking the pipe will cut off your water, and eventually, lead to it bursting. Burst pipes lead to severe water damage very quickly. As soon as the pipe bursts, the absolute first thing you need to do is shut off the water. Once that is done, call in a plumber immediately.
Toilet Overflow
Overflowing toilets are not only concerning because of damage the water will cause but also for the potential health hazards. There is always the possibility that the water is contaminated. If you can't find the clog and clear it immediately, call an emergency plumber.
No Hot Water
If you turn on your shower or the sink, and the water will not warm up at all, there is something wrong. Usually, this points to something being wrong with your water heater. Water heater issues do not typically constitute an emergency, but there is always the risk of an older one leaking. Like most other problems on this list, leaks will lead to water damage.
Anything That Causes Flooding
If there is a plumbing problem in your home that has begun flooding your home, call an emergency plumber IMMEDIATELY. Extensive flooding will not only damage your flooring, furniture, and other personal belongings but, eventually even the structure of your home.
Serious plumbing problems can be a very intense experience for your family. Luckily, if you live in the greater Longview, TX area, Bird Dog Plumbing LLC is here. We have been assisting homeowners with all their plumbing needs for over 13 years. From appliance installation to repiping your home, we have you covered. For more information on who we are or to schedule a service, please contact us today!