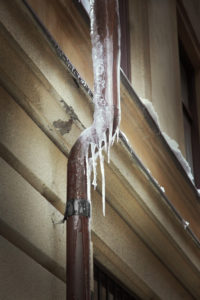 Winter will be here in Longview, TX before you know it! So, you must make sure your plumbing is ready to handle the cold! Prepping your plumbing for the cold weather will save you the headache and costs that come with fixing problems like a burst pipe. Here are a few winter plumbing tips from the experts at Bird Dog Plumbing!
Disconnect Hoses
One of the first things you should do in the cold weather is disconnect your hoses! Water that is left inside will freeze and back up into the faucet. The ice in your pipes will cause the pipe to crack, which is an expensive fix that you can avoid. Simply unscrew the hose, drain it, and store it for winter.
Use Technology
Nowadays, there are wifi thermostats you can use in your home. These thermostats send you alerts when the temperature in your home drops a set limit. You will get a warning on your phone when the temperature gets too low. This warning is helpful because you can adjust the temperature accordingly to prevent plumbing problems. Frozen pipes are not a problem you want to have if you can help it.
There are also heat cables that will do the work for you! You attach them to your pipes; they sense the temperature and crank up the heat when it gets too cold. These cables are a perfect, hassle-free way to save yourself from water damage. One thing to keep in mind is that you need an outlet nearby to plug in the cable.
Seal Cracks and Holes
You should inspect your home, or call an expert to do so, for holes and cracks near your cables, wires, and pipes. These will end up being entry points for cold air and potentially lead to damage. You can purchase materials to cover the cracks and holes yourself or call an expert for help!
Turn Off Your Water
Make sure you turn off your water if you are leaving town! Turning off your water will prevent potential plumbing problems, and save you some money. If you do turn off your water There will be less damage if your pipes do end up freezing and cracking while you are away. You should also shut off your automatic icemaker if you have one. Leaving it on will cause the motor to burn out.
Protect against Cold Snaps
During frigid temperatures, you should adjust your thermostat accordingly and keep it at a steady temperature. Also, keeping cabinet doors open in your kitchen will be beneficial too. When closed, the heat cannot reach the pipes in your cabinets. You can also point a space heater towards your open cabinets to further improve the circulation of heat.
While this list is not exhaustive, these winter plumbing tips should help prevent damage during the winter months. Please call Bird Dog Plumbing if you experience complications or need further help! We are prepared to protect your Longview, TX home's plumbing before winter starts!