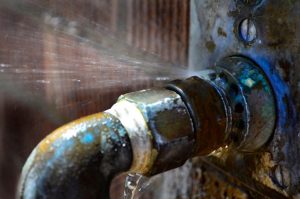 A leak under your home is more than just a hassle; it can cause property damage and even health problems for residents. Although repairing kitchen sink and toilet leaks can present a challenge, perhaps the most challenging leak to fix is one that erupts underneath your home.
Also called slab leaks, these potential disasters occur when plumbing supply lines or drainage pipes under the foundation break or leak. Over time, pressure causes pipes to become corroded and weak, and water begins to spill out.
Fixing this type of issue is not for amateurs and seeking the help of a water leak repair service professional is typically best.
Finding the Leak
Before the physical signs of a leaky pipe appear, homeowners typically suspect something is wrong when they see a dramatic increase in their water bills. A costlier bill means something in your home is using more water than usual. If you aren't aware of a reason for the extra use, chances are, you have a hidden water leak.
Look for water spots in the concrete of your bottom floor. If you have another type of flooring, you may notice bubbling or warping, as well. These are all signs that water has been present long enough to cause some significant damage.
You can also feel for warm spots in your floor by walking around barefoot. You might additionally hear the sound of gushing water underneath of you. If you detect either of these, it's a safe bet you've found the leak.
Repairing the Leak
Professionals have two options when it comes to repairing leaky pipes under a home. The easiest and least expensive method is to drill a few holes in the concrete where the water is suspected so they can identify the damaged area of the pipe. A water repair specialist will then apply a sealant to the affected spot of the pipe. Once it's dry, it should prevent additional water from escaping the pipes.
Unfortunately, this isn't an option for every pipe, particularly if it is heavily damaged. If that's the case, another option is to replace the faulty piping. As you might imagine, this is far more invasive and costly but is sometimes the only practical method.
Bird Dog Plumbing in Longview, TX, provides water leak repair service, as well as all of your plumbing needs. Learn how we can fix your home by calling 903-225-2272 or visiting http://birddogplumbingllc.com/ today! Don't wait!
Water Leak Repair Service Longview TX
Bird Dog Plumbing LLC
2206 Balsam St
Longview, Texas 75605
903-225-2272