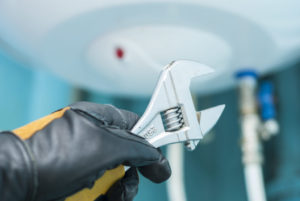 When selecting a team to handle your commercial plumbing needs, the question often arises, "How do I know which plumber is best for me?" The hundreds of competitive companies in the industry can make your decision overwhelming and seem nearly impossible. As the owner or operator of a commercial property, you must take many factors into account when choosing professionals to work at your place of business. Use the following checklist to help guide you when selecting a commercial plumber. Look for a plumbing company that has:
Commercial Experience. Unlike typical residences, commercial properties are likely to have relatively complex structures and maintenance needs. Be sure to choose a plumbing team with ample experience in the commercial side of the industry.
Prompt Response Times. Nothing is more frustrating than scheduling an appointment with your plumber and waiting at home for hours, only for the crew to show up just before the end of the day. Delayed assessment and repairs on your commercial properties can cost you, so be sure you choose plumbers who deliver quality promptly.
24-Hour Emergency Services. Look for a company that has multiple plumbers on-call at all times. You never know when you will have an issue at your commercial property. Make sure your plumber can complete repairs at any time and that other plumbers are also available to come work, depending on the magnitude of the job.
The Manpower to Handle your Needs. As mentioned above, make sure there are multiple individuals able to come work on your properties when necessary. Beyond that, make sure the company's entire team is large enough to fulfill your needs in a timely manner. This guideline is especially important if you manage multiple properties simultaneously, as handling multiple properties will require a large team.
Repair AND Installation Services. Life is unpredictable. A simple fix always has the potential to turn into a major issue or even system replacement. Make sure your commercial plumber can handle installation just as easily as a minor repair and avoid having to call in a second team to get the job done.
An Insured, Licensed, and Bonded Business. As a commercial property owner, it is your responsibility to ensure the safety and security of those using your facilities from any potentially harmful actions of a plumbing company. Make sure your contractor has insurance to cover any incidents or accidents the company or employees could cause on your property. Furthermore, your contractor should have an official plumbing license and a bond that includes any claims you, the property owner, could make against the company.
If you are currently in search of a reputable, trustworthy commercial plumbing service, look no further than Bird Dog Plumbing in Longview, Texas. We are dedicated to providing prompt, high-quality service to maintain or repair your commercial properties. For more information about our services and commitment to our customers, visit us online at http://birddogplumbingllc.com/ or give us a call today 903-225-2272.
Commercial Plumbing Longview TX
Bird Dog Plumbing LLC
2206 Balsam St
Longview, Texas 75605
903-225-2272