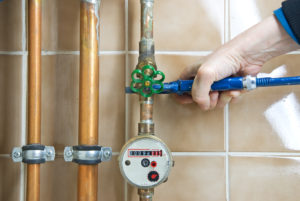 A commercial plumber performs a variety of plumbing jobs for businesses compared to the services they provide a residence. In addition to addressing general plumbing problems, they oversee installation and maintenance of substantial water supply and waste removal systems for industries and corporations. The installation work involves fitting fixtures, fountains and sprinklers, and setting up sewer and water lines. The maintenance work includes solving stoppages in drains and repairing lines and pipes that have broken. A commercial plumbing job typically requires specialized equipment and expert plumbers to get the work done right.
Business owners understand that the city holds a commercial property to higher laws and regulations than a residential property. Successful business owners also know the importance of maintaining their plumbing systems and making all of the necessary repairs as soon as possible.
Depending on a certified commercial plumber can help any business save thousands of dollars over time. Professional plumbers work with their commercial customers to help them keep their systems up to code standards. They deal with all plumbing issues, big or small, and are ready to manage and solve the complicated jobs that a commercial property presents.
Commercial plumbing services include:
Inspecting and maintaining drains

Installing and upgrading water systems

Installing and upgrading fixtures

Regularly inspecting plumbing systems

Installing and maintaining washroom facilities

Installing and maintaining boilers

Installing and servicing hot water systems
The cost of a commercial plumber can vary between $45 and $150 per hour depending on the complexity of the issue or service. A rough idea on the cost of a commercial plumbing job can be determined based on a $4 to $5 per square foot calculation. However, each project will vary depending on the individual aspects of the project. A two-story structure will require substantially more time and expertise than a one story building. Additional costs can also include charges for cleaning and protecting any existing structure from installation and work debris.
Determining the best commercial plumber for your business property may seem like an overwhelming task. Let the experts at Bird Dog Plumbing help you make the best choice. They will itemize the costs involved and provide you with a guaranteed estimate before they begin any work.
Bird Dog Plumbing has been in the plumbing business for over twenty years. They are licensed, bonded and insured. They guarantee that all of their work will be completed to your expectations. Their trained plumbers will provide an estimate before they begin any work on your commercial property. Call Bird Dog Plumbing at 903-225-2272 to schedule an appointment for a commercial plumber in the Longview area today!
Plumber Longview
Bird Dog Plumbing LLC
2206 Balsam St
Longview, Texas 75605
903-225-2272