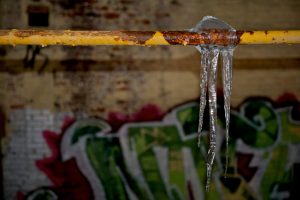 It's a wintry day, and your faucets aren't working. Chances are your pipes are frozen. This situation can be dire, mainly if your pipes burst. If you find yourself in these circumstances, the following steps will help to reduce the potential of needing expensive repairs to solve the problem.
Turn On Your Faucets
Check every faucet in your home and check to see whether the water is running through them. Keep all of the problem faucets open to reduce the water pressure leading to them. Frozen water inside a pipe will expand. This expansion can force the pipeline to burst. When the pipes begin to thaw, the force of the running water will help in the melting any ice within them. When the water is running freely, turn the faucet to a slow drip, particularly if the pipes are running through exterior walls of your home. This extra step will prevent them from re-freezing.
Warm Your Interior Space
Increase the air temperature in the rooms where the pipes are frozen. Open all of the cupboard doors to allow the warm air to circulate around the pipes. Be careful to keep any electric heaters away from the pipes to prevent the potential for electrocution.
Warm Your Pipes
Touch the pipes in question to look for any particular frozen areas. If necessary use a hair dryer to warm your pipes. Be careful using an electric device around water. Heat the entire pipe, evenly moving the heat from the dryer around the plumbing. Do not use any heating devices that have a flame as these could damage your plumbing or cause a fire.
Check for Plumbing Leaks
Once the water in your pipes has thawed and begun to flow freely, check for any leaks in your plumbing. If you find a leak, shut off the main valve and contact your plumber. You should also contact your insurance company as soon as possible. Take photographs of the damage to your home.
Frozen Pipe Prevention
The best way to keep your pipes from freezing is to maintain a consistent interior air temperature above 55 degrees Fahrenheit. If you leave your home for any length of time during the cold months, consider installing a smart thermostat that you can manage while you are away. If that is not possible, have a friend or family member check on your home while you are gone.
Ensure that you have the proper insulation in your walls. If necessary insulate the pipes in your attic, basement, crawl space and garage.
If you are experiencing frozen pipes, get the expert help of a  Longview plumber from Bird Dog Plumbing. Call 903-225-2272 any time of the day!
Longview Plumber
Bird Dog Plumbing LLC
2206 Balsam St
Longview, Texas 75605
903-225-2272