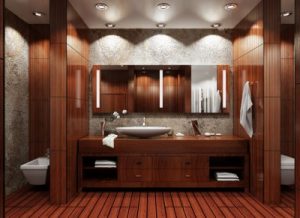 Whether you are designing a new bathroom from the ground up or remodeling an existing space, it's essential to consider what style and size of vanity best fit your needs. With an expansive array of available vanity designs, it can be difficult to determine the most suitable and affordable option for you. The key to installing the most functional and visually appealing centerpiece in your bathroom often depends on your preference of sink style, and the amount of storage space/countertop surface area you need.
With that in mind, the following guide should help to highlight the important pros and cons to consider when installing a bathroom vanity. With more than 13 years of professional plumbing experience, the Bird Dog Plumbing experts know a thing or two about bathroom remodels.
A single sink bathroom vanity includes a cabinet and sink, normally extending anywhere from 16 to 70 inches in length. Single vanity sinks come in both freestanding and mounted styles. They are normally easier to install, fit nicely in small bathrooms, and provide ample storage space. On top of that, installing a single sink and faucet lowers the overall cost of the project. On the other hand, installing a single vanity limits the amount of available sink and counter space for more than one person. Sharing a master bathroom sink can be awkward and bothersome for all parties, even with enough storage space underneath.
A double bathroom vanity includes two sinks installed into one larger cabinet. Having two sinks means that more than one person is capable of using the bathroom at the same time. The ability to use your sink and counter space whenever you want is hugely beneficial, especially during busy hours in the morning and at night. Not to mention, two sinks, more counter space, and cabinet storage significantly help to eliminate overall bathroom clutter. On the other hand, a double vanity may increase the price of remodeling and take up more physical space, which may make the bathroom feel cramped and small.
Before you make a final decision, keep the following things in mind.
Scale: Just because your bathroom space allows you to install a double vanity doesn't mean it's the best choice. Make sure to choose a vanity that will complement the bathroom layout, not overwhelm and crowd the space. Remember to leave enough room to move around with ease.
Cost: Be sure to establish a reasonable budget and understanding of the costs associated with installing each vanity style.
Design: Do enough research to understand what styles you like. Assure that the vanity style complements the style of your bathroom and home.
Convenience: The convenience of a double sink vanity means that no one has to fight over the sink or disrupt someone else's routine.
Selling Power: Remember that whatever upgrade you decide on has the potential to increase the selling value of your home.
For more information or to get a professional opinion/quote on installing a new bathroom vanity today, contact us at Bird Dog Plumbing in Longview, Texas. Our residential and commercial plumbing specialists will be more than happy to serve your plumbing needs.