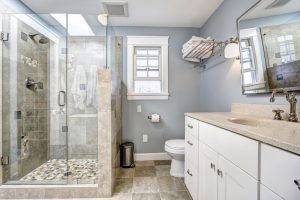 Undertaking a bathroom remodel is a transformative endeavor that can breathe new life into your entire home. Whether you're looking to modernize your space, increase its functionality, or simply give it a fresh and appealing look, a bathroom remodel is a substantial investment that often comes with a price tag of at least $10,000. To ensure you get the most value out of your bathroom remodel and save money along the way, it's important to ask the right questions and make informed decisions. Here are some key considerations to help you navigate the bathroom remodeling process:
1. Professional Qualifications: When embarking on a bathroom remodel, it's crucial to work with qualified professionals who possess the necessary training and licenses. Verify the credentials of your contractor, plumber, and any other specialists involved in the project. Hiring certified professionals ensures that your remodel is in capable hands and that the work will meet industry standards.
2. Seek Referrals: One of the most reliable ways to find a skilled and trustworthy team for your bathroom remodel is to gather quality referrals. Ask friends, family, and colleagues about their renovation experiences and who they would recommend. Online reviews and testimonials can also provide valuable insights into the reputation and reliability of contractors and professionals.
3. Material Selection: Discuss the materials that will be used in your bathroom remodel with your contractors. Consider factors like durability, aesthetics, and cost. Inquire about any warranties offered on the materials and fixtures to ensure you have a clear understanding of their longevity and coverage. Opting for quality materials may require a larger upfront investment but can save you money in the long run by reducing the need for future repairs or replacements.
4. Project Timeline: Time is often of the essence during a bathroom remodel, especially if you have only one bathroom in your home. Inquire about the expected timeline for the project to be completed. A well-defined schedule can help you plan accordingly and minimize any inconvenience during the renovation process.
5. Define Your Goals: Before starting the bathroom remodel, have a clear vision of what you want to achieve with the project. Whether it's a luxurious spa-like retreat, improved functionality, or a simple aesthetic refresh, communicating your goals with your contractors and plumbers is essential. This ensures that everyone involved is on the same page, and the final result aligns with your expectations.
In conclusion, a bathroom remodel is a significant investment in your home's comfort and value. By asking the right questions and making informed choices, you can save money while achieving your desired outcomes. Selecting qualified professionals, seeking referrals, discussing materials and warranties, understanding the project timeline, and clearly defining your goals are all key steps in the bathroom remodel process. With careful planning and decision-making, you can embark on your bathroom remodel project with confidence, knowing that it will enhance your living space and provide lasting value.
With the right questions and guidance, your bathroom can become a dream. For the best Longview plumber around, let Bird Dog Plumbing help you! Call 903-225-2272 or visit http://birddogplumbingllc.com/ for more information.
Longview Plumber
Bird Dog Plumbing LLC
2206 Balsam St
Longview, Texas 75605
903-225-2272