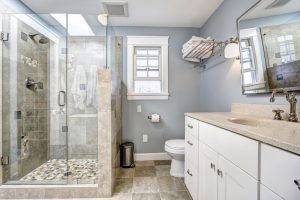 A professionally remodeled bathroom can be a luxurious addition to any home. The process, however, can be painstakingly expensive and timely if done incorrectly. When the time comes to start a dream bathroom remodel, make sure to contact the experts at Bird Dog Plumbing in Longview, TX. Until that time, consider the following Do's and Don'ts of bathroom renovations:
Have a Realistic Budget. The bathroom is a significant and frequently used space, so before planning a major renovation, establish a budget. Establish a firm and mutual understanding of the costs associated with installing items like a new shower or toilet. In certain cases, establish a budget for unexpected repairs and potentially unnoticed water damage. An experienced Bird Dog plumbing specialist will do their best to explore the area and provide an accurate quote or estimation of the associated costs.
Choose the right toilet. If you haven't already, familiarize yourself with the different brands and models of toilets. There are plenty of different brands and toilet types which offer different levels of water consumption and performance. Some of the best residential toilet brands on the market include TOTO, Kohler, and American Standard. After deciding on a suitable brand and model of toilet, consider its placement. It's never a bad idea to partially conceal the fixture behind a half wall or piece of furniture.
Decide on the best surfaces for space. Carefully ponder your choice of tile, countertop, sink, and flooring. Consider the price, color, size, and durability of the material, whether that be marble, granite, quartz, porcelain, or natural stone. Decide on the most sensible material that best suits your interests and needs.
Don't skimp on the shower. The shower is an essential part of the bathroom space. Depending on the size of the area, determine the right number and style of showerheads you want to install. Try your best to align the fixture finish to the color or style of the bathroom as a whole. The decisions you make here will be significant and long-lasting, so go all out.
Think about water efficiency. In recent years, toilets, showerheads, and sinks have all become increasingly water-efficient. To save money in the long run, research and install the best low-flow appliances. Replacing older, inefficient toilets, showerheads, and sinks can save thousands of gallons of water and more than hundreds of dollars per year.
Of course, this is not a complete list. There are countless variables to consider when tackling a professionally remodeled bathroom. For more information or to get a quote today, contact the Bird Dog Plumbing experts in Longview, TX. Call 903-225-2272 or visit birddogplumbingllc.com.